Chapter 3


The Big Bang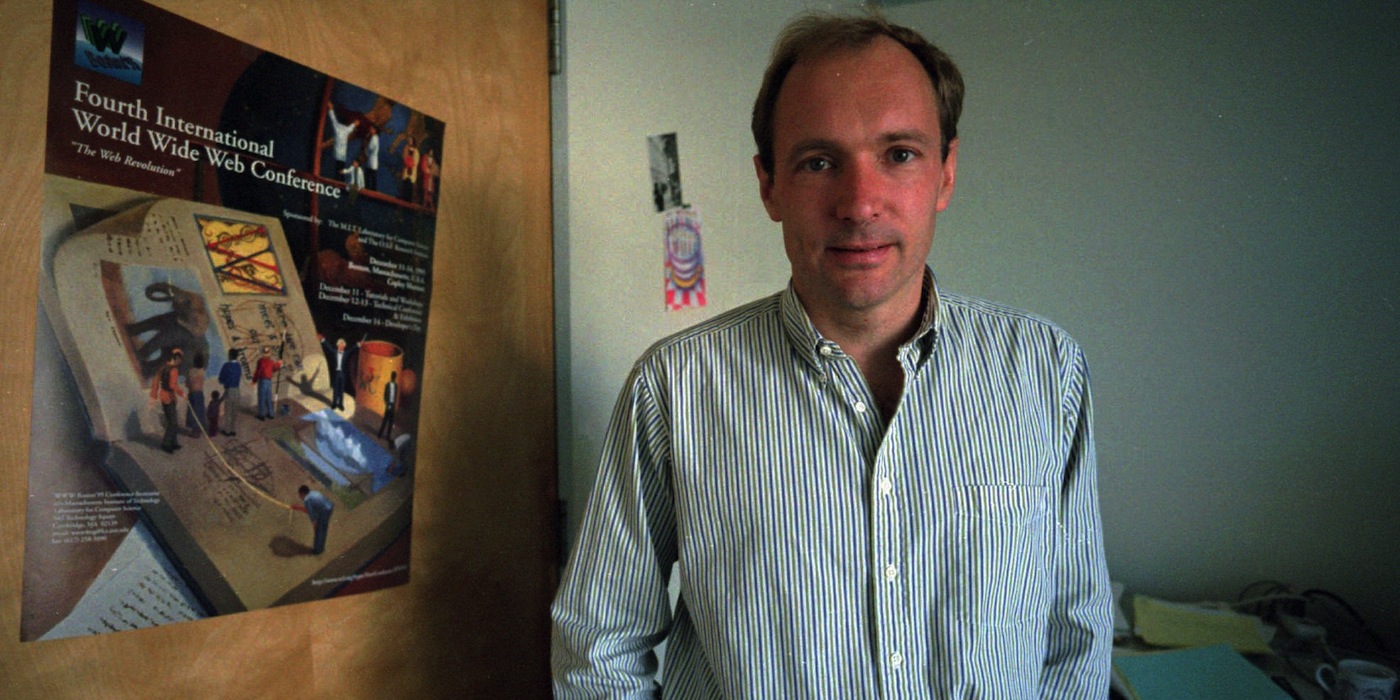 While AOL was getting everyone comfortable online in the early '90s, a computer scientist named Tim Berners-Lee had been working at CERN, near Geneva, Switzerland, since 1989 to develop a tool that would enable academics to collaborate through globally linked computers. His idea was to harness the infrastructure of the obscure scientific research and defense communications network that had evolved into the Internet. Berners-Lee would call his baby the "World Wide Web," and its magic would be precisely the opposite of AOL's; it too would be a garden, but it would be an infinite garden with no walls in sight.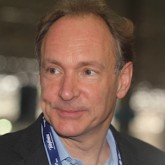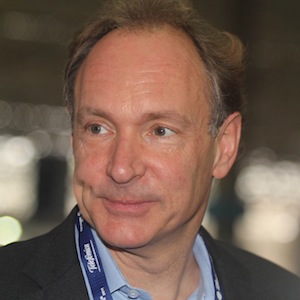 inventor of the World Wide Web
It was universal. One of the things I had noticed about all the systems which had been designed for scientists, or for people working on the mainframe, or for people using PCs in administration or something, is that they made assumptions…which limited availability. It was clear that this thing had to be universal. Every computer had to be able to understand HTML. Every computer had to be able to talk HTTP. You had to be able to make a link to anything. The moment you had a list, or a class of things — these are the things which the web was designed for and these are not — then you end up with an oil/water boundary, and the web itself would cease to be functional. If you can't link to anything, then what's the point?
It was designed to work on any computer. It's what I didn't put into the design. I didn't put any constraints that you had to use. You didn't have to use Microsoft Word. You didn't have to use a Mac. You didn't have to use a…mainframe….
An important thing is accessibility. We should try to make the web as much for people who may be listening to it as opposed to reading it, and so on. Certainly it should work for any culture. It works in any language. There are all these different layers that had to be independent of so many different things.
Berners-Lee launched the first website in 1991, and the nascent web began to grow exponentially in scientific and academic circles. But it wasn't until 1993, when Marc Andreessen, a 22-year-old computer science student at the University of Illinois in Urbana-Champaign, co-authored a web browser called Mosaic that the Internet became widely accessible and began to subsume both the popular imagination and mainstream commerce. Andreessen soon moved to Silicon Valley to co-found Netscape, which launched its phenomenally popular Navigator browser. Microsoft followed with its own Internet Explorer browser, and the browser wars were on. For the news business and many others, this was the Big Bang. At AOL, management quickly realized that even if the walls of the garden weren't tumbling down right away, the users were coming to expect — and demand — a simple path to the greater web.
"People are always saying, 'Well, these newspaper guys never saw this coming.' I used to say, 'We are not going to be a buggy whip company. We are not going to miss this wave.'"
The launch of Netscape changed everything. When Netscape launched, we knew, "Okay, this is giving software away for free. We know that model." We were giving billions of dollars of software away for free. AOL was the most highly distributed piece of software in the history of the world because you would get those disks everywhere. We were putting in a browser, but now Netscape was out, and they were giving a really high-quality browsing experience away for free. That activated Microsoft, who immediately rushed into the market with IE, and then they came out with their online service, MSN.
Now, all of a sudden the industry was different. You had AOL. We were booming, and we had our taxonomy, software, and network. You had Netscape, which was about a thousand flowers blooming. And then you had Microsoft, which was building its online service and its content right into the operating system.
All of those were trying to recruit journalists, either to work for us or to partner with us. There was an unbelievable amount of confusion in the marketplace.
It became a real tough decision for partners, media companies, journalists. Whose side should they take? A lot of it became who would pay you the most money. Rights fees were created. I once had a $400 million budget to now write a check upfront. There was no longer revenue sharing. It was: "We're going to write you a check, and you'll be with us, and then we'll charge."
Now all of a sudden for AOL we had to change our model. We had to go from metered pricing to $19.95 all you can eat. I remember the world saying, "That's it for AOL. You're dead." The exact opposite happened.
Knight Ridder, the second-largest newspaper publisher in America in the '90s and videotex pioneer in the '80s, became one of the first mainstream publishers to take its product online as AOL took off. Tony Ridder, an heir to one of the founding families and an executive on the advertising side of the business, was president of the company, working for (the now deceased) Jim Batten, a journalist who had worked his way up on the Knight side of the business. Ridder made the decision to move headquarters from Miami, Florida, to San Jose, California, and launch, along with editor Bob Ingle, a venture called Mercury Center, one of the very first online newspapers. When they began, the web wasn't yet available so they signed on with AOL to distribute their product online.
Of course, in 2009, four years before our interview with him, Tony Ridder had stood before a gathering of employees, reportedly with tears in his eyes, to announce the sale of his namesake company to McClatchy Co. for $4.5 billion, only a fraction of what Knight Ridder had been worth just a few years before, but considerably more than it would likely be worth today.
But we are getting ahead of our story. Around the same time that AOL and other services were opening up, at least a little, to the web, strategists in the news industry grew excited that the freedom to publish directly onto the web would lead to better business models. Kathy Yates was an executive at the Mercury News and later at Knight Ridder Digital, and she recalls the clear benefits presented by the web over the proprietary walled garden services.
In virtually every media company, early adopters emerged, and they jumped on the prospects of the Internet with enthusiasm. One was Steve Newhouse, part of the media conglomerate that carried his family's name, and he helped to push the business to experiment with digital technology, inspired in large part by work he saw at the MIT Media Lab.
The leader of that lab was Nicholas Negroponte, who helped many established media executives get an early view of the coming digital revolution even before their companies could legally register Internet domains.
AOL founder Case remembered that in the pre-web days, even AOL was prohibited from exchanging data with the Internet because it was still not commercialized.
Even today, Ted Leonsis questions the conventional wisdom that the walled gardens failed because they were closed as compared to the web and the greater Internet.
And in spite of the burgeoning digerati's condescension toward AOL as the "Internet on training wheels," the online giant thrived in the early years when the web took the world by storm.
Still some legacy publishers, such as Newhouse Communications, proceeded from Day One without help from the likes of AOL.
Steve Newhouse hired New York Daily News president Jim Willse as Advance Communications' first new media executive, and he in turn, hired Jeff Jarvis, who began planning the site that would become NJ.com — one of the first major local or regional online news efforts — as part of their effort to navigate the digital currents running across the industry.
Certainly, the newspaper companies like Knight Ridder and Newhouse weren't the only publishers taking an active interest in moving content online. At Time Inc., the largest magazine publisher in the country, interest in digitizing the titles actually arose from the journalism ranks. Walter Isaacson, soon joined by Paul Sagan from Time Warner's cable division, worked with a small team to bring news from titles as diverse as Time, Fortune, People, and Sports Illustrated initially to the proprietary services and soon after to the web.
For an early adopter of digital technology, like Time Warner CEO Jerry Levin, the advent of the web seemed to offer a promising way to bring together a unified strategy for creating content, distributing it, and making money.
As a result of this early online experimentation at Time Warner, and with Levin's support and encouragement, Isaacson and Sagan began working on two new media projects. One was a narrowband web service that pulled magazine content and other features together in a sort of digital newsstand they called Pathfinder. At one time it was one of the most visited sites on the web. Today it's a single page that points from pathfinder.com to the homepages of the company's magazine sites. The other sought to combine the broadband potential of the modern cable TV plant with direct connectivity to the public and now-commercialized Internet in a service that would come to be known as Roadrunner, named for the speedy cartoon character from the Warner Bros. stable.