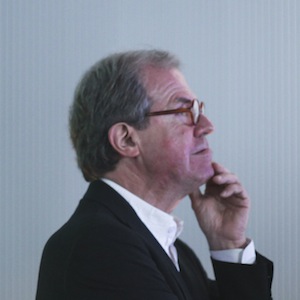 Nicholas Negroponte (born December 1, 1943) is a Greek American architect best known as the founder and Chairman Emeritus of Massachusetts Institute of Technology's Media Lab, and also known as the founder of the One Laptop per Child Association (OLPC).
Negroponte was born to Dimitri John Negroponte, a Greek shipping magnate, and grew up in New York City's Upper East Side. He is the younger brother of John Negroponte, former United States Deputy Secretary of State.
He attended Buckley School in New York City, Le Rosey in Switzerland, and The Choate School (now Choate Rosemary Hall) in Wallingford, Connecticut, from which he graduated in 1961. Subsequently, he studied at MIT as both an undergraduate and graduate student in Architecture where his research focused on issues of computer-aided design. He earned a Master's degree in architecture from MIT in 1966.
Negroponte joined the faculty of MIT in 1966. For several years thereafter he divided his teaching time between MIT and several visiting professorships at Yale, Michigan and the University of California, Berkeley.
In 1967, Negroponte founded MIT's Architecture Machine Group, a combination lab and think tank which studied new approaches to human-computer interaction. In 1985, Negroponte created the MIT Media Lab with Jerome B. Wiesner. As director, he developed the lab into the pre-eminent computer science laboratory for new media and a high-tech playground for investigating the human-computer interface. Negroponte also became a proponent of intelligent agents and personalized electronic newspapers, for which he popularized the term the Daily Me.
In 1992, Negroponte became involved in the creation of Wired Magazine as the first investor. From 1993 to 1998, he contributed a monthly column to the magazine in which he reiterated a basic theme: "Move bits, not atoms."