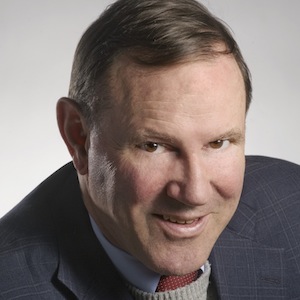 Donald Edward Graham (born April 22, 1945) is chief executive officer and Chairman of The Washington Post Company. He is also on the board of directors of Facebook Inc.
Eugene Meyer, Graham's maternal grandfather, bought The Washington Post at a bankruptcy sale in 1933. Graham's father was publisher of The Washington Post from 1946 until 1961 and president of the Washington Post Company from 1947 until his death in 1963. Graham's mother, Katharine, was the head of The Washington Post newspaper for more than two decades, overseeing its most famous period, the Watergate coverage that helped bring down President Richard Nixon. She has been widely described as one of the most powerful American women of the 20th century.
In 1971, Graham joined The Washington Post as a reporter, and went on to hold various news and business positions at the Post and Newsweek (until 2010, owned by The Washington Post Company). He was elected to the board of the company in September 1974 and was made executive vice president and general manager of the Post in 1976. Graham became publisher of The Washington Post in 1979, succeeding his mother, who retained her corporate positions of chairman of the board and CEO of The Washington Post Company. The Company owns the newspaper, as well as the educational services provider Kaplan, Inc., Post-Newsweek Stations, Cable One, Slate magazine, and other smaller companies. Donald Graham became CEO in 1991 and chairman of the company in May 1993, while Katharine Graham assumed the position of chairman of the executive committee of the Washington Post Company.
In September 2000, Graham was elected chairman of the newspaper and passed the position of publisher to Boisfeuillet Jones, Jr. In 2013, Graham announced that The Washington Post itself would be sold to Amazon founder Jeff Bezos; the rest of The Washington Post Company would continue on under another yet-to-be-announced name.