Chapter 2


America Goes Online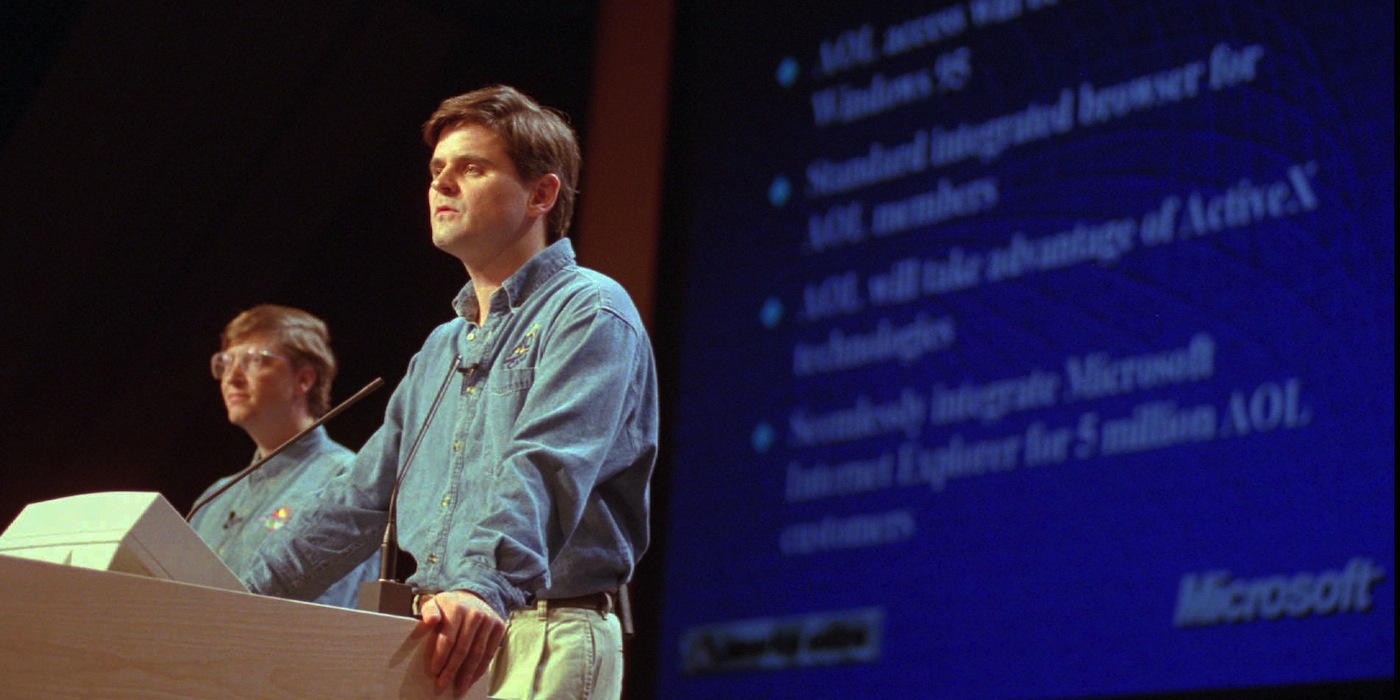 In watching the
video pitches
for the early teletext, or videotex, services, it's easy to be amused by their Paleolithic production values: the clunky fonts, the syrupy speed, the awkward remote clicker. And yet, most of the content being hyped is eerily prescient of what was to come for the interactive consumer over the next 25 years: "real time" sports scores and stock quotes, "electronic" games, a directory to find an ethnic restaurant in a particular neighborhood, and of course, "news" (from the local newspaper), scrolling across the TV screen. Once the smug laughter fades, the real takeaway may be that there really aren't any new content ideas, only new technology platforms.
So, by the mid-'80s, when the media giants were folding their costly experiments to marry the telephone with the television, and basically turning their backs on the notion of an interactive future, the real key to that future — the personal computer — was proliferating in offices everywhere, having been introduced in the mid-'70s and then to the mainstream business community by IBM in 1981. Another significant moment came in 1983, when Apple introduced the innovative Macintosh, a more user-friendly device that was clearly meant for more than crunching numbers at work; it was, in fact, the birth of self-publishing, a phenomenon that would later have enormous impact on the news business.
By 1985, two entrepreneurs, Steve Case and Jim Kimsey, had converted a struggling interactive company called Quantum Computer Services, which had begun under previous management as a dial-up interactive Atari gaming company called Control Video Corp., into something called America Online. It — and for a while its competitors, CompuServe, the Source, Delphi, the Well and Prodigy — would launch the "dial-up" era of so-called "walled garden" proprietary online services, which would explode on to the consumer market and pave the way for much of how news and information services would be distributed and consumed for years to come.
AOL took its stock public in 1992 and over the next few years peppered the country with its free software disks, like some Johnny Appleseed of interactivity. The combination of AOL's simple, user-friendly interfaces and rapaciously aggressive marketing skills paid off handsomely. The company eventually gathered an audience of more than 30 million paying customers into its "walled garden" — racing from behind to surpass early mover CompuServe, and having a huge impact on how consumers would behave online for years to come. AOL was where many Americans acquired their first screen names and their first email addresses. They had their first "social media" experiences hanging out in AOL chat rooms; they used instant messaging in ways remarkably similar to the early Twitter experience. They even went to the movies and related as Tom Hanks and Meg Ryan hooked up to the sound of that familiar voice then streaming into everyone's living room with the not-so-subtle reminder of all the excitement that could await you online: "You've got mail." Could it really be Tom or Meg?
For this project, we asked Walter Isaacson, historian, journalist, and president and CEO of the Aspen Institute, to interview Case.
"I'd say, 'Rolling Stone magazine didn't create MTV. The New York Times didn't create CNN. Don't let that happen to you.'"
Also in 1979, two years after graduating from Georgetown University, Ted Leonsis travelled to something called the West Coast Computer Faire, where Commodore, Osborne, and early Apple computers were being hawked from booths. He bought an Apple II computer, consisting of a motherboard, a keyboard, and a separate cathode ray tube. Outside the hall, he paid a sidewalk vendor six dollars for a homemade manual (wrapped in a Baggie) that explained how to put it together. While there, he met digital pioneer
Robert Metcalfe
(who co-invented
Ethernet
at Xerox PARC and later founded 3Com), and came home convinced that the computer, television, and software were somehow all destined to merge into a new form of media. Leonsis then went on to found a series of ventures that included software directories, buyers' guides to Macs and PCs, a private satellite business, and an interactive shopping business on CDs. By 1993, he was mayor of Vero Beach, Florida, and running a "new media" company called Redgate Communications, where he coined provocative slogans like "New Rules, New Media" and "Digitize or Die." Then he met Steve Case, and the almost overnight shotgun marriage of their two companies would accomplish Steve Case's goal faster than anyone could've imagined.
In the process of building its nationwide service, AOL had established a wide network of local dial-up "nodes," which saved subscribers from having to make long distance toll calls. At the same time, the fledgling service was hungry for content.
One of the people who first heard AOL pitch its call to digital arms was Tim Landon, then at the Tribune Company, which not only invested early in AOL and made billions on its stock, but also experimented with putting local news content online under its own brand.
The drive to persuade local newspaper companies to come online inside AOL would continue, but as Leonsis recalls, it wasn't always met with the same enthusiasm as in Chicago.
One of the biggest challenges established media companies faced in moving online wasn't the problem of finding successful business models, it was the difficulty of creating successful online cultures inside legacy publishing companies. Eventually, they suffered a sort of "Revenge of the Nerds" when it became clear that without hiring and empowering computer scientists in roles of real importance, the legacy media companies couldn't keep pace with the new all-digital entrants. Despite having passed on a deal with AOL — for content or maybe even something grander like a major investment or acquisition — this lesson of engineering wasn't lost on Washington Post publisher Don Graham (who, as mentioned, finally threw in the towel in August 2013, selling The Washington Post to Jeff Bezos, no stranger to building and leading engineering cultures).