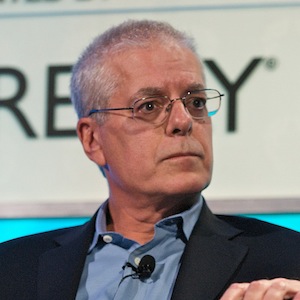 Martin A. Nisenholtz (born April 1, 1955) is an American businessman and educator who has been active in the advancement of digital media and marketing.
Nisenholtz joined The New York Times as president of its Electronic Media Company in June 1995. He was initially responsible for development and delivery of electronic products centered around the content of the newspaper, and was at the helm when the NYTimes.com website made its debut in 1996. The site required site visitors to register and thereby submit certain data about themselves. This enabled the delivery of targeted advertising utilizing that audience data. Nisenholtz had previously underscored the relationship between audience data and advertising in a article he originally authored in advertising almost two years before the launch of nytimes.com. These guidelines were also republished in the New York Times.
In October, 1998 the Times Company gave him the additional responsibility of managing the company's new media activities in all its operating units; in June 1999, the company consolidated its Internet activities into a separate operating unit called New York Times Digital, naming him as its chief executive officer. The unit encompassed the company's major online holdings, including 50 websites and 300 employees. Nisenholtz remained CEO of New York Times Digital from 1999 through 2005 when the digital activities were integrated back into the operating units.
In February 2005, Nisenholtz was named senior vice president, digital operations of the New York Times Company. In that capacity he led the acquisition of About.com from Primedia. He remained responsible for the strategy development, operations and management of the company's digital properties including its flagship, NYTimes.com, until his retirement from the Times in December, 2011.