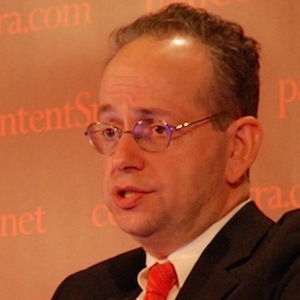 Louis Gordon Crovitz is an American media executive and advisor to media and technology companies. He is a former publisher of The Wall Street Journal who also served as executive vice-president of Dow Jones and launched the company's Consumer Media Group, which under his leadership integrated the global print, online, digital, TV and other editions of The Wall Street Journal, MarketWatch.com and Barron's across news, advertising, marketing and other functions. He stepped down from those positions in December 2007, when News Corp. completed its acquisition of Dow Jones. He writes a weekly column in The Wall Street Journal, titled "Information Age."
Crovitz is a Phi Beta Kappa graduate of the University of Chicago. He received a law degree as a Rhodes Scholar from Wadham College of Oxford University and later a law degree from Yale Law School.
In 1981, he started working as an editorial writer for The Wall Street Journal. The following year he became the founding editorial page editor for The Wall Street Journal Europe, based in Brussels. In 1986 he was appointed to The Wall Street Journal's editorial board. In 1992 he became the publisher for the Dow Jones's Far Eastern Economic Review in Hong Kong and in 1996 was named the managing director for Dow Jones Telerate's Asia/Pacific region as well as chairman of Dow Jones in Asia. In 1997-98 he was named vice president of planning and development for Dow Jones.
Since leaving Dow Jones, he has co-founded and sold a start-up technology company and has become a director and advisor to several companies, including technology-based media companies. He is a co-founder of Journalism Online, whose Press+ service enables news publishers to generate subscription revenues for their content on web sites and through tablets, e-readers and mobile devices. Journalism Online, founded in 2009, was sold to RR Donnelley in 2011 for a reported $45 million. Google had launched a product in 2011 to compete with Press+, called Google One Pass, but shut the service down in April 2012, with Press+ agreeing to grandfather its former customers.