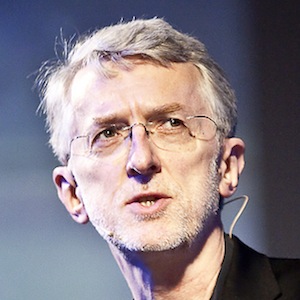 Jeff Jarvis (born July 15, 1954) is an American journalist, professor, public speaker and former television critic. He advocates the Open Web and argues that there are many societal and personal benefits to living a more public life on the internet.
Jarvis began his career in journalism in 1972 writing for the Addison Herald-Register, a local weekly newspaper at which he was the sole journalist. In 1974 Jarvis was an undergraduate in the Medill School of Journalism at Northwestern University when he was hired by the Chicago Tribune. He completed his degree and holds a BSJ from Northwestern.
In the mid-1980s Jarvis worked as a television critic for TV Guide and People magazines. In 1984, while still at People, Jarvis proposed the idea for Entertainment Weekly, a magazine which he hoped would feature "tough reviews and offbeat subjects" pertaining to the entertainment industry. The first issue was published in February 1990, with Jarvis as creator and managing editor. On June 12 of the same year, Jarvis left the publication; spokesman Peter Castiglio cited "creative differences" between Jarvis and senior management as the cause for his departure.
Jarvis is former Sunday editor and associate publisher of the New York Daily News and a former columnist for the San Francisco Examiner. He was president and creative director of Advance Internet—the online arm of Advance Publications — until 2005. He has consulted for numerous other media companies. In 2005 he became an associate professor at City University of New York's Graduate School of Journalism, directing its new media program.
He has a fortnightly column in the MediaGuardian supplement of the British newspaper The Guardian. Jarvis is the creator of the popular weblog BuzzMachine, which tracks developments in new media and chronicles some of the author's personal obsessions, such as the fortunes of radio host Howard Stern.