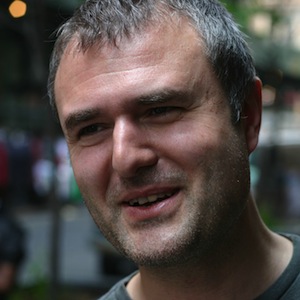 Nick Denton, born August 24, 1966, is a British journalist and internet entrepreneur, the founder and proprietor of the blog collective Gawker Media, and the managing editor of the New York-based Gawker.com. For years after starting Gawker Media, the online publishing network, in 2002, Nick Denton ran the company out of his apartment, in SoHo.
Denton grew up in Hampstead, the son of eminent economist Geoffrey R. Denton and his Hungarian Jewish wife Marika Marton. He was educated at University College School and University College, Oxford where he studied Politics, Philosophy, and Economics. He also became the editor of the university magazine, Isis. He began his career as a journalist with the Financial Times. He co-wrote a book about the collapse of Barings Bank called All That Glitters. He was one of the founders of a social networking site called First Tuesday and co-founded Moreover Technologies with David Galbraith and Angus Bankes, schoolmates from UCS. Denton owns nine websites, the most popular being Gizmodo – a lifestyle website about that centers around gadgets and consumer electronics. Gizmodo pulls in nearly six million visitors a month.
Denton was featured in the Sunday Times Rich List 2007 in position 502 with an estimated wealth of £140m (approximately $290m) based on the sale of his previous companies and the current value of Gawker Media. He was once featured in a Vanity Fair photoshoot and was the subject of a feature article in The New Yorker. Denton lives in New York City.