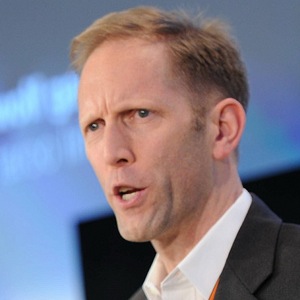 Henry Blodget (born 1966) is an American former equity research analyst who was senior Internet analyst for CIBC Oppenheimer during the dot-com bubble and the head of the global Internet research team at Merrill Lynch. Blodget is now the editor and CEO of The Business Insider, a business news and analysis site, and a host of Yahoo Daily Ticker, a finance show on Yahoo.
Blodget received a Bachelor of Arts degree from Yale University and began his career as a freelance journalist and was a proofreader for Harper's Magazine.
In 1994, Blodget joined the corporate finance training program at Prudential Securities, and, two years later, moved to Oppenheimer & Co. in equity research. In October 1998, he predicted that Amazon.com's stock price would hit a pre-split price of $400 (which it did a month later, gaining 128%).
This call received significant media attention, and, two months later, he accepted a position at Merrill Lynch. In early 2000, days before the dot-com bubble burst, Blodget personally invested $700,000 in tech stocks, only to lose most of it in the years that followed. In 2001, he accepted a buyout offer from Merrill Lynch and left the firm.