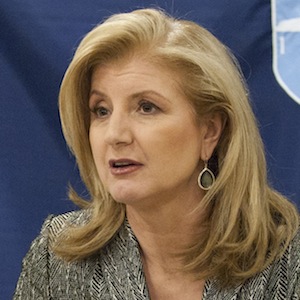 Arianna Huffington (formerly Stassinopoulos; born Αριάννα Στασινοπούλου; July 15, 1950) is a Greek-American author and syndicated columnist. She is best known for her news website The Huffington Post. At one time a liberal democrat she later became a popular conservative commentator in the mid-1990s, after which she adopted liberal political beliefs in the late 1990s. She is the ex-wife of former Republican congressman Michael Huffington.
In 2003, she ran as an independent candidate for Governor in the California recall election. In 2009, Huffington was named as number 12 in Forbes' first-ever list of the Most Influential Women In Media. She has also moved up to number 42 in The Guardian's Top 100 in Media List. In 2011, AOL acquired The Huffington Post for US$315 million and made Huffington president and editor in chief of The Huffington Post Media Group, which included The Huffington Post and then-existing AOL properties such as Engadget, AOL Music, Patch Media, and StyleList.
Huffington was born Ariánna Stasinopoúlou in Athens, Greece, the daughter of Konstantinos (a journalist and management consultant) and Elli (née Georgiadi) Stasinopoulos, and is the sister of Agapi (an author, speaker and performer). She moved to the United Kingdom at the age of 16, and studied economics at Girton College, Cambridge, where she was the first foreign, and third female President of the Cambridge Union.
In 1971, she appeared in an edition of Face the Music along with Bernard Levin. A relationship developed, of which she wrote, after his death: "He wasn't just the big love of my life, he was a mentor as a writer and a role model as a thinker." Huffington began writing books in the 1970s, with editorial help from Levin. The two traveled to music festivals around the world for the BBC. They spent summers touring three-star restaurants in France. At the age of 30, she remained deeply in love with him but longed to have children; Levin never wanted to marry or have children. Huffington concluded that she must break away, and moved to New York in 1980.