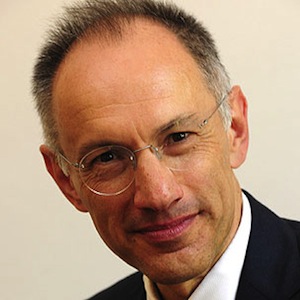 Michael Moritz (born 12 September 1954) is a British-American venture capitalist with Sequoia Capital in Menlo Park, California in Silicon Valley, a former member of the board of directors of Google, and a philanthropist and writer.
Moritz was born in Cardiff, Wales. He was educated at Howardian High School in Cardiff before moving on to Christ Church, Oxford, where he earned a Bachelor of Arts in history. In 1978, he received a Master of Business Administration degree from the Wharton School of the University of Pennsylvania as a Thouron Scholar.
Moritz joined Sequoia in 1986 after working as a reporter for Time, writing the 1984 book The Little Kingdom: the Private Story of Apple Computer, and co-authoring "Going for Broke: The Chrysler Story" (with Barrett Seaman, TIME's Detroit bureau chief). After leaving Time, Moritz co-founded Technologic Partners, a technology newsletter and conference company.
His internet company investments include Google, Yahoo!, PayPal, Webvan, YouTube, eToys, and Zappos. He currently sits on the boards of; 24/7 Customer, Earth Networks, Gamefly, HealthCentral, Green Dot Corporation, Klarna, Kayak.com, LinkedIn, Stripe and Sugar Inc.. Moritz previously served on the boards of A123 Systems, Aricent Group, Atom Entertainment, CenterRun, eGroups, Flextronics, Google, ITA Software, Luxim, PayPal, Plaxo, Pure Digital, Saba Software, Yahoo!, and Zappos. Google was a rare co-investment with John Doerr of rival venture capital firm Kleiner Perkins Caufield & Byers, and the initial public offering of the company in 2004 made him one of Wales' richest men. His investment in Google helped him achieve the number one listing in Forbes' "Midas List" of the top dealmakers in the technology industry in 2006 and 2007, and a place on the 2007 "TIME 100". He ranked number 2 on the Midas List for 2008 and 2009. He is listed by The Sunday Times as having a fortune of UK£558 million (circa US$1.1 billion).