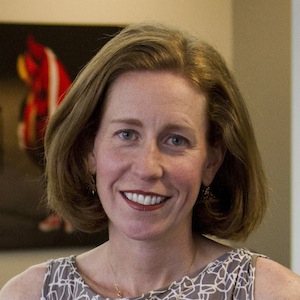 Betsy L. Morgan is currently the President and Chief Strategy Officer of TheBlaze, a leading multimedia news and information network available online, through a subscriber based IP-delivered network, and on traditional cable/satellite. Morgan joined TheBlaze in 2011 after serving as The Chief Executive Officer of The Huffington Post. The Huffington Post was successfully sold to Aol in 2011. While at The Huffington Post, Morgan led the award-winning site to rapid audience and revenue growth.
Morgan joined The Huffington Post after ten years at CBS where she was Senior Vice President for CBS Interactive and the General Manager of CBSNews.com. Under Morgan's leadership, CBSNews.com's excellence was recognized with several prestigious industry awards. She began her career at CBS as the head of the CBS Television Network's Strategic Management Group alongside the chairman and CEO of CBS.
Early work experience for Morgan includes several years in investment banking at the North America Headquarters of Schroders, in their Media and Entertainment Group. She also worked for American Sky Broadcasting, a division of News Corporation that focused on developing the U.S. direct satellite business.
Morgan graduated with a BA in political science and economics from Colby College, where she currently serves on the Board of Trustees. She has an MBA from Harvard Business School and has spoken frequently on campus including at the school's centennial global business summit in 2008. Currently Morgan is on the board of CT Partners, a publicly-traded executive search firm and she is the chairman of the Poynter Institute's National Advisory Board. She is an advisor to several New York City technology start-ups including LearnVest and Zemanta. She has been listed on Business Insider's "Silicon Alley 100" annually since 2007, as well as named as one of 27 Business Insider's "Game Changers" of 2011. In 2012, she was named one of "20 Women to Watch" by Columbia's Journalism Review.