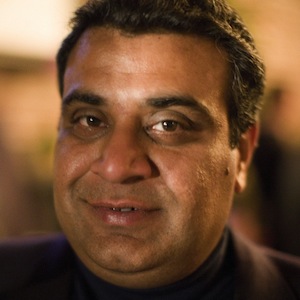 Om Perkash Malik (born September 29, 1966) is an Indian-American web and technology writer. He is a venture partner at True Ventures and was the founder of GigaOM.
Malik was born in New Delhi. He graduated from St. Stephens' College in New Delhi in 1986, with an honors degree in chemistry. Malik suffered a heart attack on December 28, 2007. He was able to walk into the hospital for treatment that night and has been recovering ever since. He had stated that he was doing well, and has since recovered and started working full-time for his blogs again.
Malik moved to New York City in 1993 to be a writer for India Abroad and then for Forbes where he became a senior writer. He was also a senior writer for Red Herring, focusing on the telecommunications sector, and later became a senior writer there. In late 1994, he launched DesiParty.com, an events site for Indian emigrants. That same year, he co-founded the South Asian Journalists Association (SAJA). In 1995 he helped launch the now-defunct magazine, Masala, and its website Masala.com, a South Asian portal.
In 1997, Malik was on the original team at Forbes.com led by David Churbuck. In 1999 he left Forbes.com to work in the venture capital world, serving as an investment manager at Hambrecht & Quist Asia Pacific; his stay there lasted only a few months because he decided he preferred being a writer.
In 2000, he moved to San Francisco, California to become a senior writer for Business 2.0 magazine. In 2001, he started GigaOM, a Web 2.0 blog published by GigaOmniMedia, Inc. in San Francisco.