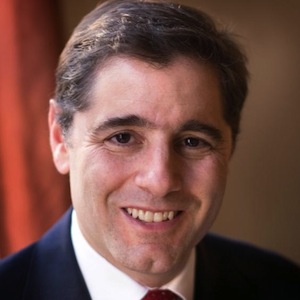 Julius Genachowski (born August 19, 1962) is an American lawyer and businessman. He became Federal Communications Commission Chairman on June 29, 2009. On March 22, 2013, he announced he would be leaving the FCC in the coming weeks.
Genachowski was born in Brookline, Massachusetts, and grew up in Great Neck, New York, the son of Adele and Azriel Genachowski. He attended yeshiva and studied in Israel. He entered Columbia College of Columbia University as a pre-med student, but earned a Bachelor of Arts in History (1985) magna cum laude. He was an Editor of the Columbia Daily Spectator. After working in Washington, D.C., for former New York Congressman Chuck Schumer, he entered Harvard Law School and earned a Juris Doctor (1991), also magna cum laude. He was a Notes Editor at the Harvard Law Review when his classmate Barack Obama was its president. Genachowski clerked for The Honorable Abner J. Mikva on the U.S. Court of Appeals for the D.C. Circuit and then for Justices William J. Brennan and David Souter at the U.S. Supreme Court.
On June 25, 2009, the U.S. Senate unanimously confirmed Julius Genachowski as FCC Chairman. Wired named "A New FCC" one of the "Top 7 Disruptions of the Year" after Genachowski announced plans to create the country's first national broadband plan, reallocate spectrum from over-the-air TV broadcasters to meet demand for wireless usage, and pursue rules to preserve Internet freedom and openness.
Between 2009 and 2013, private investment in U.S. wireless infrastructure rose more than 60%, and the United States led the world in the deployment and adoption of 4G/LTE mobile broadband. The U.S. lagged behind internationally as a "wireless backwater" prior to 2008, according to Bloomberg Businessweek. In terms of wired broadband, the FCC reported that networks capable of 100 megabits per second passed less than 20% of U.S. homes in 2009 and over 80% in 2012, putting the U.S. near the top of the world in deployment of broadband infrastructure. American firms installed more fiber optic cable for high-speed broadband in 2011 and 2012 than those of any nation other than China, and more than all European nations combined.