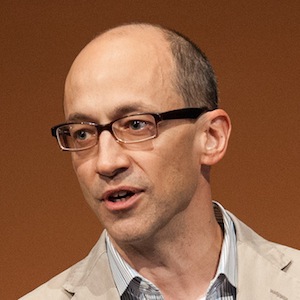 Dick Costolo is the current CEO of Twitter and was its former COO. He took over as CEO from Evan Williams in October 2010.
He graduated with a Bachelor's degree in computer science, as well as a brother of Phi Gamma Delta social fraternity from the University of Michigan. Costolo became involved in theater during his sophomore year at University of Michigan, when he began taking theater classes to fulfill the university's graduation requirements. Upon graduation, he decided not to accept offers from technology companies and instead moved to Chicago to work in improvisational comedy.
In 2004, Costolo, along with Eric Lunt, Steve Olechowski, and Matt Shobe, founded the web feed management provider FeedBurner. After Google bought FeedBurner in 2007, Dick Costolo became an employee of the search giant. After the acquisition, Costolo began working in other areas of Google. In July 2009, he left Google, and in September 2009, it was announced that he was joining Twitter as its COO. Although his 2010 takeover as CEO was supposed to be temporary, while CEO Evan Williams was on paternity leave, it eventually became a permanent position.