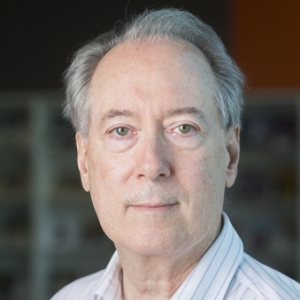 My life has been in media — music, newspapers, online, books, investing and education.
My primary gig is teaching digital media literacy and promoting entrepreneurship at Arizona State University's Walter Cronkite School of Journalism and Mass Communication.
My most recent book (a project that is much more than a book) is Mediactive. My goal with this project is to help turn passive media consumers into active users — as participants at every step of the process starting with what we read.
I'm working on a new book and web project, tentatively entitled Permission Taken, about the increasing control that companies and governments are exerting over the way we use technology and communicate, and how we can take back some of that control.
I also write articles and commentary, including a regular online column for the Guardian newspaper, and somewhat more frequently at the Mediactive blog and on this site.
My first book, We the Media: Grassroots Journalism by the People, for the People (2004 and 2006; O'Reilly Media), is still on the market and still selling. The book has been translated into many foreign languages, most recently Korean and Arabic.
I'm also involved in several outside projects; have a number of media investments; and am on several media-related boards and advisory boards. These include:
¥ Investor, Wikia, a privately held consumer wiki company.
¥ Shareholder in Berkshire Hathaway (owner of the Buffalo News and major shareholder in the Washington Post Co.), and Amazon.com
¥ Co-founder, Dopplr, a travel site and "social atlas". Nokia bought Dopplr in 2009 (announcement)
¥ Board member, First Amendment Coalition, a nonprofit that promotes free speech and open government
¥ Board member, Pen Plus Bytes, the International Institute of ICT Journalism, a nonprofit based in Accra, Ghana
¥ Advisor, FON, a collaborative Wi-Fi company
¥ Advisor, Global Voices Online, a nonprofit global blog network
¥ Advisor, Spot.us, a startup working on new journalism business models (now owned by Minnesota Public Radio's Public Insight Network)
¥ Advisor, Publish2.com, a site aggregating journalists' links and ideas
¥ Advisor and co-founder, Citizen Media Law Project, a Berkman-based (and Knight-funded) project
¥ Board member, the Banyan Project, which is developing a co-op model for community news
I frequently speak at events, public and corporate, and have been paid on a number of occasions. In the past several years I've received compensation from organizations including (among others): the National Federation of Advanced Information Services, Schibsted (Norway), ABC (Spain), TVN (Chile), Clarin (Argentina), Consumer Electronics Association (US), International Prepress Association, TIDE (Germany), Newspaper Association of America, Knight Center for Digital Media, National Association of Science Writers, New York Press Association, BlogBoat (Belgium), IGN (a unit of News Corp.) the University of Colorado, Washington & Lee University, Northeastern University, the University of Hong Kong, Louisiana State University, Columbia University and others. I've also gone to several countries including Russia, Colombia, Egypt and Croatia on behalf of the U.S. State Department, giving talks and workshops for journalists and new-media people and promoting the ideas behind citizen media.
I count the business failure of Bayosphere, a new-media startup that aimed to fuel local journalism in 2005, as one of my best learning experiences.
From 1994-2005 I was a columnist at the San Jose Mercury News, Silicon Valley's daily newspaper, and wrote a weblog for SiliconValley.com. The blog was one of the first by a journalist for a traditional media company. I joined the Mercury News after six years with the Detroit Free Press. Before that, I was with the Kansas  City Times and several newspapers in Vermont. Over the years I've freelanced for the New York Times, Boston Globe, Economist, Financial Times and many other publications.
During the 1986-87 academic year I was a Knight-Wallace journalism fellow at the University of Michigan in Ann Arbor, where I studied history, political theory and economics.
Before becoming a journalist I played music for seven years.
–http//:dangillmor.com/about